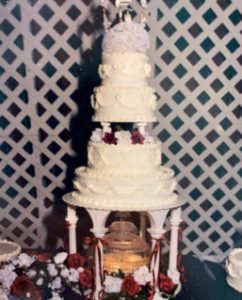 "We had a fountain under our wedding cake?" A few days ago, on our 26th anniversary, we watched our wedding video for the first time in 20 years and were surprised by a lot of it. Most notably, neither of us remembers having a beautiful fountain under our tall wedding cake. Overall, we thought our wedding was classier than we remembered. We are only a few days into December with all eyes on the holidays, but we might be surprised at how good November was stock marketwise when we take a moment to look back at it.
November didn't feel that awesome. The midterm elections dominated the headlines, and several states may have hired sloths to count their ballots. It felt like the market continued its roller coaster ride that has been 2022. But I think it was better than we remember.
While doing my analysis for November, I was surprised by how good it ended up. The S&P 500 stocks were up 5.6% for the month. The Dow Jones Industrials stocks were a little better by being positive 6%. At the same time, the tech-heavy stocks in the Nasdaq index were up 4.5%. So November was definitely better than I remembered it being.
Unless I'm with a client, I watch the market every 3-5 minutes to keep a "pulse" of the market. Doing this helps me understand the market tendencies, but it does make me have a somewhat negative view of the market. It's helpful for me to look back at the market as a whole to have the best perspective.
With the usually seasonal push, good valuations, and the possibility the Fed halts its rate hiking campaign in early spring 2023, I feel good about stock gains next year. I believe this even though we have the potential of level growth or a mild recession. Perspective helps.
The wedding kiss was a lot better than I remembered too. For those who don't know me personally, I'm married to a very beautiful girl, and I'm the guy people see and think, "How did he get her?" This must have been on my mind when Pastor Dave said I could kiss my bride. I guess you could say "I got my money's worth." It didn't escape the notice of my 16-year-old son. He said, "Dad, you got moves! That was like three kisses in one." That was awkward.
Have a blessed week!
Securities and advisory services offered through LPL Financial, a registered investment advisor, Member FINRA/SIPC.
Opinions voiced above are for general information only & not intended as specific advice or recommendations for any person. All performance cited is historical & is no guarantee of future results. All indices are unmanaged & can't be invested into directly.
The economic forecast outlined in this material may not develop as predicted & there can be no guarantee that strategies promoted will be successful.